Press Release & Industry News
CP to innovate its way to 4.0 New leadership to transform company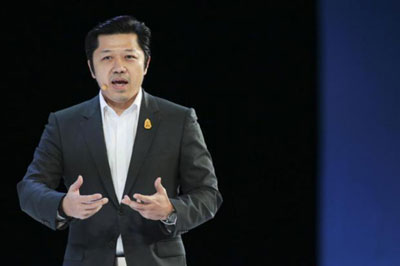 Charoen Pokphand (CP) Group's new supremo has set his sights on embracing innovation, automation and technology to propel the agribusiness empire his family built into Thailand 4.0.
Tech-savvy Suphachai Chearavanont, who was recently entrusted by his billionaire father, Dhanin Chearavanont, to lead the US$45-billion business, wants to transform CP's businesses with advanced technology under "CP version 4.0".
"Technology is important for enhancing businesses and platforms for future ventures," said the 49-year-old chief executive of CP Group.

CP will continue to focus on expanding into food-related logistics, supply chains and warehouses to further improve the efficiency of its food distribution processes and systems.

Mr Suphachai said CP has also applied the Blue Growth initiative created by the UN's Food and Agriculture Organization in order to modernise and improve agriculture and food practices under a 10-year commitment, starting from 2016.
CP has three core businesses operating in agribusiness and food through Charoen Pokphand Food (CPF); retail and distribution through subsidiary CP All, the operator of 7-Eleven convenience stores and cash-and-carry chain Siam Macro; and the telecommunications industries through True Corporation.

"We will continue to increase exports to our 16 overseas markets, which generate half of our group's consolidated revenue," Mr Suphachai said. Two-thirds of CPF's turnover stems from overseas markets, and one-third of overseas revenue is from exports. Mr Suphachai said CPF has a 22-23% share of the Thai poultry market. The average profit margin of CPF's businesses in Thailand is 3-4%.

The 7-Eleven convenience stores also provide daily food products, representing less than 20% of the products on store shelves. More than 80% of products on the shelves at 7-Eleven are controlled by the big four consumer goods giants: Procter & Gamble, Berli Jucker, Nestle and Coca-Cola.
"We are not monopolies in any markets, despite what people think," Mr Suphachai said. A true monopoly is when one corporation controls an entire industry or a product or commodity with significant market share, he said.

The Chearavanont family is listed among Asia's 50 richest families in 2016 as ranked by Forbes Asia magazine, rising to second place with $27.7 billion in wealth, up from fourth place with copy9.9 billion in combined wealth in 2014.
Under his leadership, Mr Suphachai said he tries to break down negative images about CP Group, which he sees as a critical challenge: "We're on the verge of conducting a strategic plan and roadmap to grow our businesses in a sustainable manner." Despite the Chearavanont family's tradition of requiring members to work and build businesses independent from CP Group to build a spirit of entrepreneurship, Mr Suphachai said he might break this rule by allowing the fourth generation to oversee the technology-based businesses.
Source: http://www.bangkokpost.com/business/news/1203917/cp-to-innovate-its-way-to-4-0