Press Release & Industry News
Buhler shows its strength in covering complete food production chains at the ProPak Asia 2018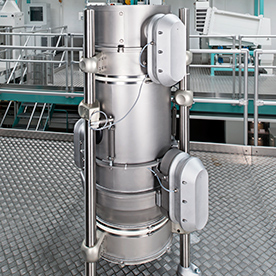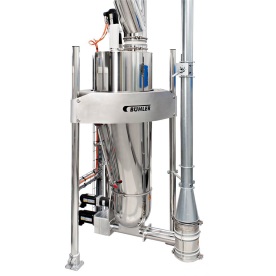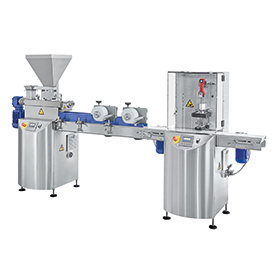 Bangkok, June 4, 2018 – Bühler is offering new and exciting solutions for various process chains at the ProPak Asia 2018. The event is held a few months after Bühler and Haas officially teamed up in January 2018, opening new possibilities for customers around the globe.
Bühler is presenting at the 26th ProPak Asia 2018, Asia's Number 1 Processing & Packaging Event that will be held at the Bangkok International Trade & Exhibition Centre (BITEC) Thailand, on June 13 to June 16 June, 2018. Bühler is the market leader for chocolate solutions and a well-established brand in the confectionery market. The company provides a range of solutions across the entire value chain including bean to chocolate bar, grain to cereal bar, nut to nut bar, grain to baked goods and sugar to candy.
Bühler opens a new chapter with the acquisition of Haas
Haas, a family owned company with a history spanning more than a century, evolved to be the pace setter in the field of production systems for wafers, hard and soft biscuits, ice cream cones, cakes, and baked goods. In Asia, Haas will be present at Bühler's booth for the first time at the ProPak Asia in Thailand.
"We are excited to have the opportunity to feature Haas at ProPak Asia this year. We believe in the strength of the Haas Group, an expert and strong leader in its field. Their European confectionary expertise, together with the strength of Bühler in South East Asia, will greatly benefit start-up companies in Thailand and Asia, allowing local biscuit and wafer producers to create new innovative products and gain market shares," says Mark Ledson – Sales Director South East Asia at Bühler and Managing Director of Bühler.
Focus on sustainability, food quality and safety
"We want everyone to have access to healthy and safe food. Although our technologies and solutions in grain and food processing are diverse and wide ranges, they all share the same engineering focus – delivering high quality and safe-to-eat products," says Adrien Beauvisage, Head of Region South East Asia & Pacific. Today, Bühler solutions produce food for more than two billion people each day. "Sustainability is key for us: to feed the planet, we need to become more efficient at producing food, using less energy and reducing waste. With our digital innovations, Bühler is at the forefront of this revolution. Digitalization will help us reach our goals and engineer customer success," Adrien Beauvisage adds.
Innovations presented at the Bühler booth will include:
è SnackFix™ – A ready-to-go solution for snack bar production (http://www.buhlergroup.com/northamerica/en/27906.htm#.Wwg3FIiFOUk)
è TUBEX – the new generation of Bühler scales. (http://www.buhlergroup.com/global/en/26958.htm#.Wwg3cYiFOUk)
è MSDF micro feeder – Homogeneous mixing for top product quality (http://www.buhlergroup.com/global/en/products/micro-differential-proportioning-scale-msdf.htm#.Wwg3vYiFOUk)
è SORTEX A1 MultiVision™ Optical Sorter – Precision FM removal, food safety, high capacity, flexibility and yield. (http://www.buhlergroup.com/global/en/products/sortex-a-multivision-optical-sorter.htm#.Wwg4AoiFOUk)
è New RoastMaster™20 – Turn the full green bean potential into your roast flavor signature. (http://www.buhlergroup.com/global/en/products/roastmaster20.htm#.Wwg4NoiFOUk)
To complement our commitment to food safety, Bühler will feature at its booth itsstrategic partnership with Bühler + Scherler AG. The company engineers electricity systems in plants with high hygiene and food safety requirements. The alliance with Bühler + Scherler AG allows Bühler to offer a comprehensive solution from early-stage project counselling to the supply of equipment, electricity systems and automatic plant control systems, and the commissioning of equipment, after-sales services and training.
For those who have limited time: Bühler recommends a vist on June 15, where special activities will be organized:
è Conference with Bühler experts on June 15, from 1 – 4 p.m.: Learn how Bühler can bring more benefits to your organization, offering insights on how to improve processes from raw material to the final culinary treat with highly efficient and safe process chains.
Full schedule here https://mailchi.mp/d462d44fce98/jrb4fnjnpv
è Booth party on June 15, from 4 – 6 p.m, following the conference: A great occasion to discuss with professionals from the industry and enjoy a special show. Relax and just walk in, no registration required.


More about Bühler Group at ProPak Asia 2018 www.buhlergroup.com/ProPak2018
Discover how Bühler can engineer your success @ProPak Asia 2018 – Hall 100, Booth AZ21 (Expert conference at MR 212, June 15, from 1 – 4 p.m.)
Media contact:
Suwachira Athiburanakarn (Four), PR & Marketing Officer
Bühler (Thailand) Ltd.
Phone: +66 2 712 2600-1, 2570-1 ext. 112
Mobile: +66 84 488 2855
E-mail: [email protected]
About Bühler
Every day, billions of people come into contact with Bühler process technologies to cover their basic needs for food and mobility. Our solutions ensure healthy and safe food for two billion on a daily basis, and they help move one billion people per day. Together with our customers and partners, we develop innovations for a better world with a focus on sustainability, health, safety, and energy efficiency. We help manufacturers produce healthy and safe food, manufacture higher-efficiency vehicles, improve eyesight, advance telecommunications, and make buildings more economical.
As a leading technology group, Bühler invests up to 5% of its turnover every year in research and development. In 2017, around 11,000 employees in over 140 countries generated a turnover of CHF 2.7 billion. As a globally active Swiss family-owned company, we are particularly committed to sustainability.
We want our customers to be successful. We want every human being to have access to healthy food. We want to protect the climate with energy-efficient cars, buildings, and machinery.