ผลิตภัณฑ์ไฮไลต์ปี 2562
Display 1 - 100 of 108 Companys

A&D Inspection offers cutting edge X-Ray inspection systems to assist food packaging and pharmaceutical companies better understand how to leverage this incredible technology in an effort to improve and manage the quality of their products.
A.J. Plast Public Company Limited

A.J.Plast is a high quality manufacturer of Biaxially Oriented Films for flexible packaging industry ,BOPP,BOPET,BOPA,BOPLA,CPP and Metallized films. Currently , we have a sustainable products to reduce consumed fossil based material and greenhouse emissions films , BiOPA and BOPPlus films.
A+F Automation + Fordertechnik GmbH
A+F DITIGAL PACKAGING A+F - Condition Monitoring A+F Digital Packaging comprises various modules that implement functions for digitizing packaging and palettizing machines. The following modules are already available for our customers or will be available in the near future: - Digital Remote Access - Digital Monitoring - Digital Maintenance - Digital Parts - Digital Operation

AFA Systems has recently launched the HD-LSP, a heavy-duty, intermittent motion autoload cartoner for bottling lines. Built on a monobloc frame, the machine completes all operations within 30 square feet - about half the space typically required for a conventional multi-machine solution. The machine runs at 1200 bottles per minute.
Alliance Technology Co.,Ltd.

IQ4 Metal Detector Conveyor - With significant improvements in signal processing, the new Auto-Learn rapidly delivers excellent detection sensitivities out of the box and provides more line uptime than ever before, variable frequency detection 31 to 882 kHz, Graphical DDS vector display and PVS improvements help increase the usefulness.

This SpiralVeyor is an all-purpose spiral conveyor for medium to large sized products. It is ideal for handling secondary packed products and cases and is used for multiple functions ranging from elevation up to accumulation. The continuous motion represents the perfect solution for the exacting situations involved with unstable products.

Technologies & Turnkey Solution for Powder Process & Packaging in Foods, Pharmaceuticals & Petrochemicals, especially on NDC, Coconut, 3 in 1 coffee, Starch, Flour, Sugar, Bakery Premix, Seasoning, Milk Powders & Compound Resin. We do Bulk Storage, Mixing, Weighing, Grinding, Conveying & Packaging System with EHEDG, GMP, HACCP, UKAS Standard
Amo - Pack (Asia) Co.,Ltd.

BM-SERIES is an automatic bagging machine which is suitable for open mouth bags such as PE bags, PP Woven bags and Kraft paper bags. The bagging machines are tailor-made to customize according to client's need. Its capacity varies from 200 to 1200 bags per hour.
AMP International Co.,Ltd.

Hygienic cleaning tools for the food and beverage industry

Super Bloc 24/24/18 GVSF (Rinser/Filler/Seal Foil)
Benison (Thailand) Co.,Ltd.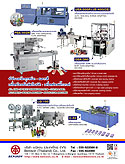 BENISON is a leading manufacture of Auto Shrink Sleeve machine,wrapping machine,mini pillow machine,heat tunnel,steam tunnel,POF film,PVC film,PET film. BENISON is reliable partner for you.

Retort Pouch Filler & Sealer Rotary Packing Machine Retort pouch filler and sealer rotary packing machine designed for flat and standing pouches. The scope of applications include liquid food or thick liquid food. Suitable for using in frozen food, snack, bean, candy and pet food.
Botens Int'l (Thailand) Co.,Ltd.

WRJ Series of Solventless Laminator, Speed 450 M/Min.
BUHLER ASIA PRIVATE LIMITED

Two billion people each day enjoy foods produced on Bühler equipment. Having this global relevance, we are in a unique position to turn today's global challenges into sustainable business. We want every human being to have access to healthy food. Our motto is creating "innovations for a better world."

Case Packer 1. 2D robot for movement 2. 3 in 1 Forming box, products into box and closing box 3. Total productive maintenance 4. Hygienic design 5. Safety approved design
Chukoh Chemical (Thailand) Co.,Ltd.

ASF-121FR - This tape consists of silicone adhesive applied to a base material made of fluoroplastic (PTFE) film. It has gray color which can be used in high-temperature electrical insulation covering. Very low heat shrinkage and superior in surface smoothness.

The PAW Series is a global model has a high safety design and conforms to European safety standard CE marking (shaft body). Human Assist product contributes to alleviating workloads in the workplace and securing workers safety.

Clayton Industries' latest innovation, the small and highly efficient Clayton STEAM MASTER, has combined technical expertise and ease of use to deliver a superior product based on reliability and safety. In addition to our other quality built steam products these offer many advantages which improve on operating costs.
Consoveyo Singapore Pte Ltd

"Our portfolio of integrated solutions and services include high bay warehouses, distribution centers, and order processing systems. The company specializes in in-house solutions for Automated Storage & Retrieval Systems, Pallet Conveying Systems, Rail Guided Vehicles, Automated Guided Vehicles and Software."

Jet Cook™ Steam Infusion technology is an award-winning high speed cooking method which gives food and beverage producers high quality results.Benefits include time and energy savings, and great tasting, healthier products.Jet Cook™ can be applied to many convenience products including soups, sauces, condensed milk, condiments and pet food.

D7 is a U.S. EPA, Thai FDA registered cleaner, disinfectant, sanitizer and deodorizer. D7 was purposely engineered to be highly efficacious in the most challenging environments and formulated to withstand the rigors of the Food, Beverage and Biosecurity industries.
Enge Plas Automation (S) Pte Ltd

material discharging & unloading, silo storage & filling, mechanical & pneumatic (vacuum & pressure) conveying, weighing & batching, feeding & dosing size reduction (granulating, milling) screening, mixing (continuous & batch) & drying (hot-air or dehumidifying) intermediate bulk container (IBC) systems, metal detectors & separators, level/flow & melt pressure/temperature sensors & monitors, dust collection & separators, extruders, purging agents, sieve/particle analysis etc
Eonmetall Systems Sdn.Bhd.

Eonmetall was incorporated in Malaysia and it is a pulic listed company in the Bursa Malaysia. Eonemtall as a leading manufacturer and design innovator of metalwork and palm oil machinery, steel products and storage systems.

ETPACK SPRINTER proudly presents its wraparound cardboard sleever for trays, cans, dairy products etc... Stainless steel multiformat machine made in Europe, up to 200 packs/min.

As usual EUROPAC will display interesting machinery at Propak Asia 2019. This year we will present Automatic Pouch Filling and Sealing Machine of LEEPACK from Korea. Leepack supplies high quality and reliable machine with competitive price. Please visit us at booth AD39.
European Tech Solutions Co.,Ltd.

DeltaVITA bead mills are designed to produce ultra fine particles and nano-suspensions to increase the bioavailability and to reduce the required amount of API. DeltaVITA has the advantages for sterile pharmaceutical production with CIP/SIP. Special FDA certified VITAbeads for nano-size. R&D machines and production scale machines

"AUTOPAK is not only a machine but is your best partner!"Labelling machine hight speed type suitable for pharma maufacturing, and many types of them wait your proving AUTOPAK understand. We are committed to deliver you with best fit solution & top quality after-sales service.
Evermore International Co.,Ltd.

REA JET marking technology & code verification system that relied on ISO standard from Germany to print data for traceability, quality assurance and counterfeit protection for your product marking. to make sure that you can print with global acceptance standard.

Empty Can Inspector is a highly configurable vision solution with a compact footprint that is easy to install and capable of inspecting flange, inner sidewall, and base defects. Ready to use and integrates into existing production lines. Reduces downtime and increases production line efficiency by reducing jams at the filler/seamer.
Floeter Verpackungs-Services GmbH

Attractive and safely packed: Air cushion systems by FLOETER. FLOETER is one of the leading companies in the field of industrial packaging, air cushions and packaging systems in Europe, USA & Asia Pacific. Our program includes transport protection in many variations. Air cushion machines & films for every application.
Forefront Food Tech Co.,Ltd.

The high speed sausage vacuum filler by portioning butterfly chain and twin-horn casing loader
G HWA Industries Co.,Ltd.

High purity stainless steel tubes, components, valves and pumps for food & beverage, cosmetics, personal care, bio-pharma, vacuum & semi-conductor industries.

CALLIFREEZE® is a unique new control system developed for the GEA range of freezers for the food industry. The system monitors the condition of products exiting the freezer, and then automatically calibrates the freezer parameters to ensure that every product is frozen according to optimum requirements with minimal energy consumption.
Good Time Import-Export Co.,Ltd.

Full Servo High Speed Horizontal Flow Wrapper Machine Model : HP-350V/HP-450V/HP-600V

WrapBOX represents new kind of innovation, bringing the benefits of the ring technology to the low-end capacity range of automatic stretch wrapping machines. Due to the simple structure and clever design, the installation, operation and maintenance of WrapBOX is quick and easy. No pneumatic / compressed air supply is needed.
Harn Engineering Solutions Public Co.,Ltd.

Domino's M-Series is the truly flexible way to introduce print and apply label applicator solutions onto your production line. Whether you need supply chain traceability or labelling compliance, it has full GS1 coding capability at high resolution including bar codes, text and graphics.
The FreeTherm is a NEW batch processing system. The FreeTherm brings elements of the world leading RotaTherm?? continuous cooking & processing technology to the batch cooking processing world. The FreeTherm mixes, heats- using unique Direct Steam Injectors & de-aerates- using an integrated vacuum system, all with unique accurate temperature monitoring.
Hoerbiger KT Asia Services Pte Ltd

IEP Technologies is the worldwide leading provider of explosion protection systems and services. For over 60 years we have provided protection solutions that can suppress, isolate and vent combustible dust or vapor explosions in process industries.
Hoermann KG Verkaufsgesellschaft
Spiral door HS 7030 PU The sections are securely guided into a spiral bracket without any contact. With the high-performance 3-phase frequency converter control and the chain mechanism with spring compensation, the door reaches an opening speed of up to 2.5? m/s. It can also be fitted externally.
Honesty Protection Supply Co.,Ltd.

PVC STRIP CURTAIN,HIGH SPEED DOORS,LOADING DOCK SYSTEM
HRS Heat Exchangers Sdn.Bhd.

The HRS R Series is a rotary scraped surface heat exchanger developed for hygienic applications. In addition to the standard series, a heavy duty version (HRS RHD Series) has been developed for more demanding applications. Features includes reduced pressures drop, large heat transfer area and continuous scraping action eliminates fouling.

iglidur® A160 plain bearings are characterized by extreme media resistance at a low cost. The material can be used in temperature up to +90 C and conforms the food processing sector's demand. • Compliant with FDA and EU regulation • Lubrication- and maintenance-free Typical application areas • Beverage industry • Food industry • Medical technology
Intermach & Service Co.,Ltd.

The most popular designed for Blowing machine in this era. The Special Feature, 4.5 pront double toggle clamping unit by optimized design for higher clamping force and speed. To improved stability with "Layered" preform heating system.
ISL Asia Technologies Pte Ltd

ISL Asia Technologies manufactures IBC System as it is unique way of handling powder and granular materials for different processes such as storage,transport,screening,grinding,weighing,blending and feeding powders. ISL also manufactures its Discharge Station, Fill Head and Universal Big Bag Discharger which offer a complete solutions.

TZC Cobot automatic tube loader with AI (Artificial Intelligence), which astonished the packaging world. IWK will show various fully automated packaging lines with tube feeder, tube filler, cartoner and end-of-line equipment.
J.C.P.Industrial Co.,Ltd.

Product pack Manufacturing, publishing, pharmaceuticals, and graphic boxes Can pack products safely without damage with high quality materials and without manual labor From the shrink wrap, we are committed to improving production efficiency and reducing operating costs.
Jacob White Packaging Ltd.

Jacob White are exhibiting an high speed NSX5 Box Packaging Machine with the flexibility to handle a complete range of products,this has been well established in Asia for companies automating their packaging lines. Please come and visit us and discuss how we can help maximize your production output
Japan Packaging Machinery Manufacturers Association (JPMA)
Stand No.
AU11/AV11/AV21/AV31/AV41
Jacob White are exhibiting an high speed NSX5 Box Packaging Machine with the flexibility to handle a complete range of products,this has been well established in Asia for companies automating their packaging lines. Please come and visit us and discuss how we can help maximize your production output
Japan Seiko Glass Co.,Ltd.

The quality of our Glass Bottles and Glass Jars are well-know as a top class high transparency glass in Japan. We provide many kind of products which surely go well for your products. All our products are made in JAPAN. Available in small lots.
Keyence (Thailand) Co.,Ltd.

Industrial Inkjet Printers (MK-U series): world's first auto shower cleaning function with vision system no clogging, easy maintenance, non-contact and high speed printing ex. date,lot number, logo, barcode etc.

Just 5 grams for 500 ml! With its Factor 100 half-litre PET bottle, KHS presents an extremely lightweight container. The lightest 0.5-liter PET bottle for still water known to KHS to date is perfectly adapted to suit its load and gives users huge material savings with the best possible stability.
Kinglai Hygienic Materials Co., Ltd.

Our main products are key components for Hygienic fluid pipeline system and ultrahigh vacuum (UHV) system, including a vacuum chamber, Hygienic pump, valve, flange, Tubes & fittings, etc. They are mainly applied in such fields which need processing pollution control as biopharmaceuticals, electronic cleaning, and food & beverage.
Kluber Lubrication Munchen SE & Co.KG

More Than Food Safety with speciality lubrication.With regard to food safety, advanced speciality lubricants for the food industry are playing an ever bigger part in attaining efficient production and failure-proof machine operation.The tribology expert Klüber Lubrication shall be exhibiting newly developed, high-quality speciality lubricants,and customized services for the food sector.

KOCH Pac-Systeme presents the blister machine KBS-PL for efficient packaging with sophisticated technology. For productive packaging of high quantities with all common types of foil. For the application fields contact lenses, consumer goods, medical technology. In addition to the KBS-PL, a semi-automatic sealing machine will be presented by shawpack.

GEA :Granulation Technologies & High Speed Tablet presses. HoongA Packaging Machine from South Korea Packline MATERIAL HANDLING from UK. Sepha : Leak Testing machine Charles Ischi: Tablet testing technology

Lachenmeier Stretch Hood Pallet Wrapping Lachenmeier provide state-of-the art pallet stretch hood and shrink wrap machines. Lachenmeier serves a broad range of market segments from food and beverages, building materials and chemicals to appliances, paper and corrugated, insulation materials and brick products. Lachenmeier is a global leader in pallet wrapping.

Lantech is widely recognized as the world leader in stretch wrapping technology. As the inventor of the first rotary stretch wrapping machine we have continually innovated with new features and performance enhancing technology. We also are industry leaders in robust and efficient case and tray handling equipment.
Logopak Systeme GmbH & Co KG

The Logopak 300 series is a cost effective solution for simple, high-speed applications. Clean design, user-friendly operator interface and outstanding print quality. Developed in response to customer feedback, it responds to the requirement for a basic labeller to suit conditions where there is a straightforward application
Miura Industries(Thailand) Co., Ltd.
MIURA BOILER ( MODEL SQ AS , SQ B ) HIGH SPEED MULTI POSITION STEP CONTROL HIGH EFFIENCY ELECTRICAL SAVING HYPER LOW NOx

A&D Inspection offers cutting edge X-Ray inspection systems to assist food packaging and pharmaceutical companies better understand how to leverage this incredible technology in an effort to improve and manage the quality of their products.
Netzsch Asia Pacific Pte Ltd

New concept of pump worked in your process - No dis-assembling pump from your pipe connection - Easier access to all rotating parts - Reduce space of installation in Progressive cavity pump as no space required to change stator

COMPANY OF AUTOMATIC BAGGING SYSTEM , EXPERIENTED CONSULTING , MANUFACTURING AND SERVICING
Nh-Tech Filtration Pumps Engineering & Service Co.,Ltd.

Our product portfolio with 12 lines of hygienic double screw, positive displacement, centrifugal,and shear pumps as well as powder mixers is a complete range for almost every conceivable application.
Nippon Polystar Co., Ltd.

Vegetable shrink wrapping machine *Available both of pillow and shrink wrapping. *Easy operation and Stores 100 kinds of item data *PAMS (OPTION): Wrapping system which calculates optical bag length depending on each item length, and seals and cuts bags automatically. This is very effective to wrap vegetables of various length.

Based on a high barrier transparent film, we have realized a transparent retort pouch. This pouch is also microwaveable due to not using aluminum as usual retort pouch does. Your consumers are able to see your product clearly with its transparency.
Nordson Xaloy Asia (Thailand) Ltd.

The ProBlue Liberty ATS combines the benefits of tankless technology with the operating efficiency of an adhesive tracking system. The integrated precision gear flow meter directly measures adhesive volume and alerts the system when the amount of adhesive is out of a pre-determined band
Official Equipment Manufacturing Co.,Ltd.

Fume hood set with fire fighting system set for Lab Safety from working inside the smoke cabinet There is a risk and danger that a fire will occur within the cabinet.
P.A.H International Co.,Ltd.

Quality inspection of plastic film printing The machine is made from quality materials.
Packmate (Thailand) Co., Ltd.

PACKMATE RINSER FILLER CAPPER

ATKOL is renowned for being an excellent engineering company specializing in providing quality food processing machines for liquid products such as pasteurized and UHT dairy, energy drink, beer, fruit juice, and drinking water.

Good system Everything goes fast (ONE SHOT LOADING)
Perfect Engineering & Consultant Co.,Ltd.

INOXPA Sanitary Pump,Valves,Fittings LEFON Orbital Pipe Saws
Plaloc Asia (Thailand) Co.,Ltd.

PLALOC TM, a Zipper Tape with excellent economic efficiency, functionality and convenience that meets the needs of today. You can efficiently use the contents after initial opening without any waste. PLALOC TM provides advanced for your flexible packaging, such as easy production of the pouch, smooth filling and easy opening.

PACK EXPO Las Vegas focuses on the latest developments in packaging machinery, materials, packages and containers, and components. The most prominent companies in the industry will be exhibiting and making product introductions at the show.

PPMA incorporating British Automation and Robot Association (BARA) and UK Industrial Vision Association (UKIVA) is the trade association for UK manufacturers and suppliers of processing and packaging machinery. Visit the UK Pavilion and find UK processing, packaging, vision and robotics partners and register for your copy of Machinery Update magazine.
Primary Engineering (Thailand) Ltd.

TOMRA Sorting Food is the preferred supplier of sorting, peeling and process analytics solutions for a wide range of applications such as vegetables, (dried) fruit, potatoes, lettuce, nuts, seeds, meat and seafood. TOMRA Sorting offers an integrated approach to maximize yield, optimize production flow and support consistent high-quality output.
Producelabel & Ribbon Co.,Ltd.

- STICKER FOR BARCODE PRINTER - RIBBON FOR BARCODE PRINTER - PRINTER BARCODE - LABELLING APPLICATOR - LABELLING MACHINE - LABEL DISPENSOR - LABEL REWINDER
Project Partner Co., Ltd.

Ruwac Industrial Vacuum Cleaning Solution : Removal of difficult Dust and continuous Duty for all applications and all environments. Certified Quality made in Germany integrated with the intelligent Ruwac Modular System where almost all the components are interchangable. Whatever your Requiremnt is, we have the Solution!

Renold has an unsurpassed reputation for innovation, design and manufacturing skill. Our ranges of industrial chain, gearboxes and couplings are specified for use in power transmission, lifting, conveying and processing applications around the world.

Rhima wheelie bin washers are entirely constructed in stainless steel and are built to food grade standards. They can wash wheelie bins of the following sizes: 120, 240 and 480 L. The units can be fitted with auto loading systems. www.rhima.com.au

APPLICATION: • Mix and blend viscous liquids and ingredients • Incorporate heat during mixing process • Ideal for foods, dairy products, fruit juice beverages, pharmaceutical and chemical industries • Consist of multiple paddles to ensure complete top-bottom product movement • Suitable for medium to high viscosity mixing • Agitator speed can be easily adjusted during operation • Clockwise and/or counter-clockwise stirring motion
Sato Auto-ID (Thailand) Co., Ltd.

Effortless label printing for complex operations. With a 7-inch TFT full colour touch screen, the award winning SATO FX3-LX is a flexible, next-generation label printer suitable for a wide range of industries, including Food, Retail, Manufacturing and Logistics.

S.50-220 is a strong, raised ribs belt for transport of medium-heavy products that require great stability. The belt is designed to support heavy yet unstable and fragile products, and ideal for the bottle/can industry, incl. pasteurizers. For more infomation go to http://www.scanbelt.com/gb/products/product/s-50-220.aspx

SEAC FPM-400 is the world's most versatile Nobbing and Filleting machine for smaller fish (8/10--80/100 fpk). Can process five different end products with cap up to 325 fish/min. 40 machines only in the Philippines

Serac Aseptic Combox offering a low and medium work-rate solution for applications using pH neutral and acidic products with speed up to 12,000 PET bottles per hour for the 1-litre format and up to 18,000 PET bottles per hour for the smaller 250 ml formats.

The high-performance INTUITY metal detector is used in the food industry for inspection of packaged, unpacked and bulk products on conveyor systems. Conductive product signals are managed via multi-simultaneous frequency technology to provide detection of all types of metals, stainless steel, iron or brass down to the smallest levels possible.
SHANGHAI JOY LIGHT INDUSTRY MACHINERY CO.,LTD
Provide complete turnkey project for various fruit deep processing line, including: (1) Fruit pretreatment, including raw material selection, impurity removal, cleaning, conveying, crushing, juicing, etc. (2) Process flow technical R&D, engineering design, equipment manufacturing, project installation & commissioning, training service.
Siam Foods Consultant Co.,Ltd.

The flexible solution for the ready-cut market The DIVIDER 660+ ensures a high degree of flexibility, offers multiple application options. This means, for example, that 100 mm (3 9/10") type products can be sliced in 3 rows using this machine.
Siam Golden Sales & Services Co.,Ltd.

FEATURES: The system consists of carton erector & bottom sealer, automatic carton sealer, automatic strapping machine, 90 degree push conveyor and conveying frame, which has the function of continuous automatic carton open-bottom seal-fill-upper seal and multi-belt strapping
Siam Intermagnate Co.,Ltd.

Food Container (530x320x65 mm); Food Container made from a high genuine stainless steel 18-8 (SUS304) with seamless construction that prevents bacteria growth and allows products to be cleaned with ease.

The PRINCIPAC is a fully automatic high-performance bagging machine for open-mouth bags which packages up to 2000 bags per hour. It is ideally suited for any type of free-flowing bulk material and with additional equipment such as a dustproof filling spout also for powdery products.
TAIWAN PLASTICS INDUSTRY ASSOCIATION
A&D Inspection offers cutting edge X-Ray inspection systems to assist food packaging and pharmaceutical companies better understand how to leverage this incredible technology in an effort to improve and manage the quality of their products.
Takara Pac (Thailand) Co.,Ltd.

We are professional group of self-adhesive labels which can be applied and released under the various circumstances in Japan and Thailand as well. We are enjoying high reputations for original designs which we created from zero based on customers requirements.

Freshness and Better protection.
Thai Nippon Steel & Sumikin Engineering & Construction Corp., Ltd.

Semi-Auto Drum Filling Machine is designed by NSSDT and TNS to perform high-precision filling and weighing control of petro-chemical, painting material or edible oil/juice. This machine is available in a wide variety of optional functions in addition to the multi-function, high-speed data processing function.
Thai Stamp Engineering Ltd.,Part.

THAI COMPANY, founding in 1999 have been committed and expert in manufacturing machines key products group of printing machine, Feeding machine, Labeling machine, Counting machine

Features and Effects of Electret Sani Filter 1.Collect the bacteria and mold 2.Clean up the indoor air 3.Equalize the temperature of the room 4.Improve sensible temperature 5.Prevent the surface drying of foods 6.Easy to buy in low cost
Thanyanon Trading Co.,Ltd.

The Alfa Laval Twin Screw Pump is designed for process flexibility and precision engineered based on decades of proven technology. The pump is capable of handling both product transfer and Cleaning-in-Place (CIP) ?€" and can move seamlessly between the two.
The Specialist Supply (Thailand) Co.,Ltd.

Luminances LED PANEL New Design,Non-screw assembly, High efficiency with up to 110 lumens per circuit Watt. 50,000 hours minimum life expectancy.
Theegarten-Pactec GmbH & Co. KG

The Theegarten-Pactec MCH packaging machine offers a wide variety of options. The MCH packs gently and safely chocolate, jelly, hard candy, eclairs, enrobed products and preformed soft caramel or chewing gum. The MCH wraps the products in foil wrap, double twist, sealed double twist (protected twist) and side twist.