ข่าวสารและข่าวในแวดวงอุตสาหกรรม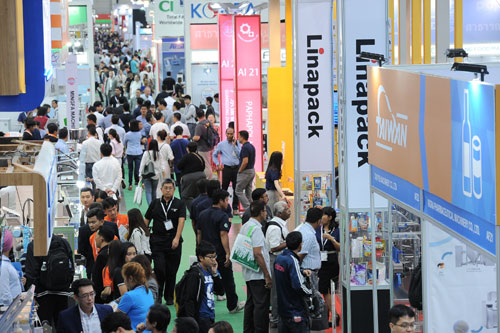 BANGKOK, June 12-15— ProPak Asia 2019 once again achieved its goal of providing an annual platform for food, drink, pharmaceutical, cosmetic, personal care, and manufacturing, processing, and packaging industries by enhancing competitiveness and preparing for future challenges. ProPak Asia connects global industry professionals and businesses of all sizes, including start-ups, small enterprises and multinational corporations, to network and discover the latest technologies and innovations from around the world.
ProPak Asia, the regional leading destination for processing and packaging solutions, reached new heights in 2019 with 52,256 visitors from 87 countries, 2,089 exhibiting participants from 48 countries, and 25 international pavilions from 15 countries offered over 20,000 machines, technologies, solutions and services across nine halls of BITEC and nine industry-specific zones: ProcessingTechAsia; PackagingTechAsia; DrinkTechAsia; PharmaTechAsia; Lab&TestAsia; MaterialsAsia; Coding,Marking&LabellingAsia; Coldchain,Logistics&WarehousingAsia; and PrintechAsia.
Industry-specific seminars and activities armed buyers and visitors with essential market & investment trends, environmental topics, knowledge & skill elevation. The Global Packaging Forum launched for the first time at ProPak Asia 2019 with a focus on sustainability and initiatives from various countries and industry leaders.
In response to the Asia's market trend demand for personalization, small batch sizes, optimum systems and multi-functionality are being adopted into various machines. Shorter life-cycle products and rapidly changing demands are also main factors in determining the need for flexibility, agility and customization through automation and digitization
Manufacturers now shifting to automation or collaborative robots to increase efficiency and productivity while lowering operational costs and difficulties associated with rising labor costs and lack of skilled manpower. Automation allows smooth transition to increase output with seamless communication between managers and operators while rapidly increase repetitive tasks with precision.
The visible trend of digitalization and AI solutions play a crucial important role in operations upgrade. Visitors were able to explore new technology and innovation trends developed to overcome operational challenges and prepare for rapid change in the digital era.

Environmental issues were also addressed through growing global concerns and actions in the public policies and private sectors, many companies provide sustainable or greener solutions for manufacturers to reduce carbon footprint, production waste reduction, energy-saving and efficient material consumption.
"ProPak Asia is always dedicated to industry growth, especially in Thailand where the market is advanced and experience healthy growth. The event supports Thailand's goal of becoming the 'Kitchen of the World,' as well as a pathway toward Thailand 4.0. Furthermore, it also serves the goals of other countries in this region, such as Vietnam, Malaysia, Myanmar and Cambodia, which have strength in agriculture and resources. We now focus more on SMEs through various content, such as exhibitor highlights, seminar programmes and onsite SME counters to connect exhibitors to new SME businesses. We want ProPak Asia to truly be a place for all people involved in the industry," said Mr. Justin Pau, General Manager of Informa UBM.
He confidently added that, "with our strong team, ProPak Asia is always improving and growing every year. After joining together with Informa Markets, we are now the world's largest international trade exhibition organizer, which means new technology and more data, resources, experience and contacts, which we will apply and leverage for improved future events. I believe that next year's ProPak Asia will be even more exciting for both exhibitors and visitors."
ProPak Asia 2020 will return with better solutions through the continued gathering and developing of new and more relevant databases, along with investing in marketing to connect quality trade buyers and leading exhibitors. The event will be held from 17-20 June 2020 at BITEC, Bangkok.
For more information on remaining participation opportunities and upcoming show developments visit www.propakasia.com
Notes to Editor:
For more information, please contact Wantita Porntanawong (Bow)Tel: +662 036 0500 ext. 728, Email: [email protected]