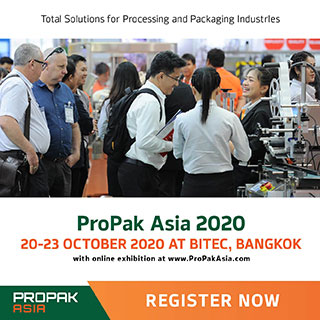 Informa Markets, the world leading of exhibition organizers, guarantees that ProPak Asia 2020 will be here between 20-23 October with more than 300 exhibitors from all around the world coming with the latest technology and innovation in processing and packaging. Safety, digitalization, and going green are the latest trends. After receiving a positive feedback from manufacturers at roadshows, the organizer expects to welcome large crowd of visitors. Manufacturers said there is no rest in business.
Rungpetch Chitanuwat, Group Director for Asean at Informa Markets, expressed that while COVID-19 pandemic, which has been going on for more than 6 months, is still terrifying but she believes that the lowest point of business growth has passed. It has also been confirmed by information from the Office of Industrial Economics. Thailand's manufacturing production index (MPI) was 4.18% higher in June than it was in May, and the MPI has continued to rise for two consecutive months. MPI continue to rise for two months consecutively. Another indication is the Capacity Utilization Rate which grew from 52.34% to 55.21%. Some industries managed to grow and benefit from COVID-19, including food, beverage and pharmaceuticals.
Many experts and market researchers agree that the industry and business nowadays is now running toward digitalization with COVID-19 act as catalyze. Business which heavily relies on human labor needs to make fast decision to invest in technology in order to survive. As per consumers side, the trend is going toward safety, e-commerce, and also green product. This is why manufacturers need to incorporate technology into every step of production process and packaging.
ProPak Asia is one of the most regionally significant international trade events for food, drink, and pharmaceutical processing & packaging technology. Unfortunately, some of oversea exhibitors could not be joining ProPak Asia this year. Informa Markets, leading organizer in global exhibitions and events, has developed a digital platform called BEPlace which is an online exhibition plus digital showroom for this
premier processing & packaging event. The platform provides the opportunity to do business matching remotely, network from anywhere in the world and learn on a scale like never before.
In order to prevent the spreading of COVID-19, ProPak Asia 2020 puts hygiene and health safety measures above all else by following strict rules of Informa AllSecure and Thailand's Centre for COVID-19 Situation Administration. Avoiding close and direct contact among visitors by using technology, limited number of visitors, redesigning exhibit space and walkway, implementing E-badge and online registration.
After adjusting themselves to the 'new normal' and successful roadshows to visit manufacturers in food and packaging business, Informa Markets remains optimistic that the need for exhibition is as much as before. The business world never stopped moving even with COVID-19. It is crucial for businesses to move forward and adapt to the new normal as soon as possible. Thailand is listed as one of the top countries that international investors are looking at, as we are strong in the medical industry and are also one of the biggest manufacturing hubs in the world. Visit ProPak Asia from the 20-23 October at BITEC, Bangkok from 9 a.m. to 6 p.m. Find out more at www.propakasia.com