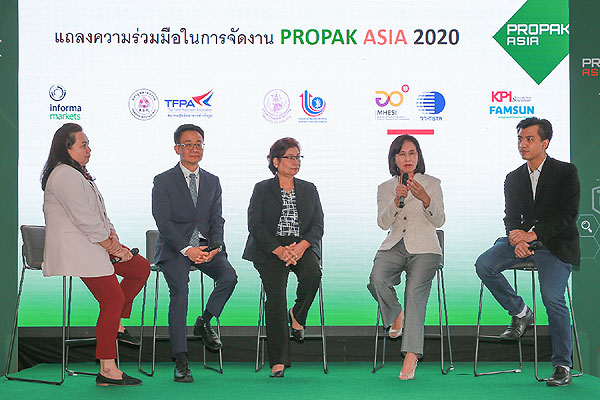 Government sector, private sector, and business organizations altogether encourage businesses to adopt technology, develop value-added products and understand consumer behavior in the new normal. They are now ready to organize ProPak Asia 2020 that visitors can discover digital and sustainable solutions and innovation as well as join a global business matching.
Thailand's manufacturing industry has witnessed some good signs, especially food, beverage, pharmaceutical, consumer goods, and packaging sectors. According to panel discussion with the topic of "manufacturing industry and its adaptation to 'new normal' age,' every sector all agrees that business can go through current crisis with technology adoption, product development, and shaping consumer insights amid COVID-19 pandemic. ProPak Asia will be held from 20-23 October for visitors to explore the latest technologies from leading companies and join a global business matching through digital platform.
Dr. Chutima Eamchotchawalit, governor of Thailand Institute of Scientific and Technological Research (TISTR) mentioned about innovation and technology that "Science, technology and innovation are of great importance now and in the future. It can help strengthen productivity and differentiation. Moreover, Applying Thailand Science Technology and Innovation (STI) standards for testing, analysis, calibration and certification of products will enhance consumer confidence, improve operational efficiency, add value to products, and help exporters. COVID-19 pandemic clearly pointed out that all businesses need to adapt and develop further. It is essential to differentiated products and meet the needs of consumers in order to accommodate the changes according to the New Normal, where consumers demand for more standards and safety. Furthermore, we can see the trends that e-commerce has accelerated during the pandemic.
Thailand Institute of Scientific and Technological Research (TISTR) aims to be the "Total Solution" to assist entrepreneurs in science, technology and innovation with a complete range from upstream to downstream levels, to drive business opportunities. At ProPak Asia 2020, TISTR will bring researches and services throughout the value chain in product manufacturing, experts to provide consultation for entrepreneurs in developing products. It also exhibits cases of entrepreneurs who have succeeded with TISTR assistance including displaying knowledge, research and packaging design works of the Thai Packaging Center under the BrandDNA program as well as. We also open to recruit interested entrepreneurs to join the program. In addition, TISTR also host a seminar on "The Key to Success in Product Development from Raw Materials to Market" which discussed many interesting topics to provide know-how to entrepreneurs, especially SMEs, in product development."
Wanpen Ratanakungwal, director of Division of Creative Industry Development under the Department of Industry Promotion (DIP)said that "creative industry is playing more important role for current businesses because it can create value to new products as well as
add value to existing products. With this, products will be diverse to meet certain consumer demand. In addition to its appeal, the packaging should also protect products inside, extend shelf-life, prevent physical damage, reduce production cost, facilitate distribution, and be environmentally friendly.
The Division of Creative Industry Development has continued to support the development of packaging and held the ThaiStar Packaging Awards 2020 as a stage to improve skill and creativity of Thai designers, entrepreneurs, and students. Over 500 packaging designs at the contest will be shown at the ProPak Asia 2020. The division organizes this activity with the aims to provide knowledge and enhance Thailand's packaging industry, so I would like to invite businesses and those who are interested to join this event and discover several product prototypes, and prize giving on 20 October too."
Rungpetch Chitanuwat, group director for Asean at Informa Markets– an organizer of ProPak Asia 2020, expressed that "leading companies around the world remains optimistic about Thailand's businesses and manufacturing industry due to high quality and standard of products they ever deliver. They also see Thailand as a good role model in adaptive capacity through technological adoption and product development. Its manufacturing industry can enhance their capability in every size from small business to large enterprise. With the country's advantages of good quality and high diversity of agricultural raw materials, Thailand's businesses can transform them into value-added products.
"Although we are still in pandemic situation, we witness some recovering signs from manufacturing industry, especially necessity goods including food, pharmaceutical, consumer goods, and packaging. Thailand are well recognized in pandemic control, therefore, trading partners around the world are confident in its product safety. Businesses should raise this reputation as a selling point and find the right sales channel, altogether with understanding changing consumer demand in the new normal. This gives a chance to Thailand's businesses, especially for SMEs and startups who need to make brand awareness and quality products conforming to standards and sustainability."
ProPak Asia 2020 have been supported by the government, business organizations, and private companies both locally and internationally. In addition to the showcase of innovation and technology in machinery of manufacturing and packaging industries, the event will also let visitors to experience state-of-the-art industry with the use of artificial intelligence (AI), robot, and Internet of Things (IoT), which are keys to drive digital transformation. There will be also virtual exhibition which enables the event to break the limit of distance between exhibitors and local and foreign visitors. This system allows users to visit technology and innovation from exhibitors around the world, and make an arrangement for business matching. Furthermore, they can also attend various seminars throughout this 4-day event.
The organizer will be taking the utmost care in hygiene and safety measures against COVID-19 in accordance to standards by Informa AllSecure and the Centre for Covid-19 Situation Administration including the limit of visitor and exhibitor number, distance between booths and aisles, e-registration system and e-badge for reduction of physical contact, and online platform providing exhibition information via mobile phone. Over 23,000 visitors are expected to join the event this year.
ProPak Asia 2020 is Thailand's largest exhibition for manufacturing, processing, and packaging industries from upstream through downstream and it is one of the most regionally significant international industrial events covering various important industries including food, beverage, pharmaceutical and packaging. It will be held from 20-23 October at BITEC Bangna, Bangkok. Find out more at www.propakasia.com.