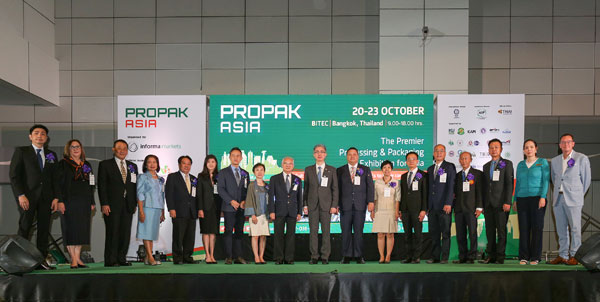 The time is now. Covid-19 is the catalyst for digitalization. Thai manufacturers answer to a call for changeand confirm joining ProPak Asia 2020 for discovering latest technologies from leading brands and networking with global partners.
Every Thai manufacturer is now looking for new technology to help increase productivity, promote sustainability, and get ready for the beginning of digital manufacturing era with COVID-19 as the main catalyst. Informa Markets expects more than 23,000 visitors at ProPak Asia this year. Everyone will come to seek out for new technology as a key for success. This year highlights are cutting-edge technologies such as artificial intelligence (AI), robots, Internet of Things (IoT), and the new feature for manufacturers to conduct business matching through online platform and physical exhibition at Bitec, Bangna.
Mr. Nattapol Rangsitpol, director-general of the Industrial Promotion Department, mentioned that the pandemic has affected everyone and created new way of living and that is the same for business. In order to transform business to match up with the change, digital technology is needed. Nowadays it is another important part of people life. The clear evidence is in the way customers shift to shopping through online channels more and more. Business whether SME, big firm, or startup, everyone needs to transform to the new way of business by adoption of innovation and technology and produce products that are wanted by the market.
Mr. Manu Leopairote, chairman, Informa Markets Thailand gave his thought about ProPak Asia 2020 that the exhibition is important for Thai business advancement. From start to finish, ProPak Asia 2020 offers complete and extensive solution in manufacturing and packaging for food, medical, pharmaceutical and food processing industry which are the biggest proportion in Thai manufacturing industry. The pandemic affects every business one way or another and it becomes a drive that pushes Thai business to digitalization.
ProPak Asia 2020 wants to be another helping hand for Thai manufacturers to help them grow and succeed in this hard time. All the latest trends, business matching, workshop and seminars from experts to help guide ways for manufacturers on how to improve manufacturing, processing and packaging industry. The show will be hybrid exhibition experiencing both physical and virtual. The new virtual exhibition is a tool for foreign exhibitors and visitors to still experience the ProPak Asia just like in the normal situation. Moreover, they can always conduct a business matching or even join a seminar.
Special this year with the SMEs zone and the Consultation Center which is the one-stop service for all SMEs. Representative from related government sectors and local banks which come to advise and help SMEs in every way they can. Other interesting co-event are ThaiStar Packaging Awards, Brand DNA, IDEA Theatre, and an experience sharing session. Everything that SMEs need is here.
ProPak Asia 2020 also features with the new exhibit zone which focus solely on social responsibility and environmental friendliness. Sustainability square will showcase how to achieve sustainability in business.
The organizer will be taking the utmost care in hygiene and safety measures against COVID-19 in accordance to standards by Informa AllSecure and the Centre for Covid-19 Situation Administration including the limit of visitor and exhibitor number, distance between booths and aisles, e-registration system and e-badge.ProPak Asia 2020 is Thailand's largest exhibition for manufacturing, processing, and packaging industries from upstream through downstream and it is one of the most regionally significant international industrial events covering various important industries including food, beverage, pharmaceutical and packaging. It will be held from 20-23 October at BITEC Bangna, Bangkok. Find out more at www.propakasia.com.