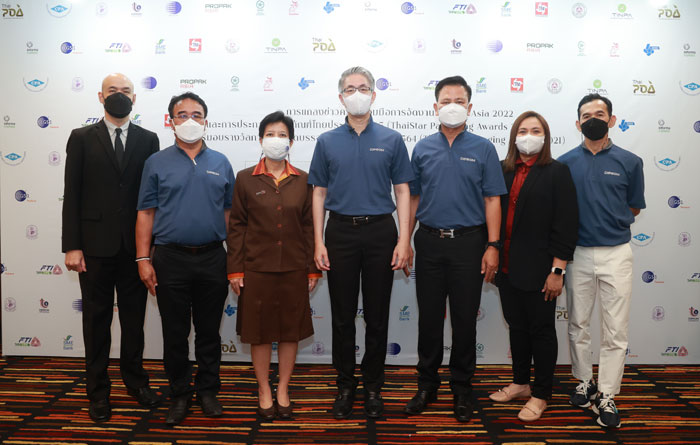 ProPak Asia 2022 returns to its glorious position after having experienced a series of unprecedented challenges of Covid-19. This year's edition of the tradeshow aims to enable businesses to embrace volatility in labor markets; and the manufacturing sector. It also focuses on exports and an increase in small businesses, whose number has hit a new high.
An international trade event for manufacturing, processing, and packaging technologies that brings together knowledge, inspirations, and business opportunities, ProPak Asia 2022 is set to take place during 15-18 June 2022 at BITEC and aims to enable Thai businesses to embrace volatility in labor and manufacturing sectors by adopting technologies and digitization to strengthen their competitiveness.
Ms. Rungpetch Chitanuwat, Regional Portfolio Director- ASEAN at Informa Markets, the organizer of ProPak Asia 2022, said that, "The Covid-19 pandemic is a turning point that highlights the volatility in the labor markets while changing consumer behavior affects manufacturing in various industries. The Thai manufacturing sector largely depends on local workers and migrant laborers from neighboring countries. Both are affected by the pandemic, having been unable to work in the same area. Now that manufacturing technology is constantly developed, businesses can be more independent from labor markets and have more effective human resources management. Meanwhile, the consumer landscape is changing as consumers are affected by the Covid-19 pandemic, resulting in changes in the way they purchase. Their needs for products and services are more of health and safety concerns. As a result, the workforce and consumer behavior calls on technology to help prevent damages to manufacturing, control product quality, and minimize contacts and contamination about which consumers are much concerned."
The consistency of product quality is a significant factor in marketing and branding. Export marketing, in particular, is a promising market for 2022. According to the Ministry of Commerce, last year's exports expanded by 17% compared to the previous year (Despite huge impacts from the delta variant of Covid-19 during the second quarter of the year). The total exports were worth 271,173 million US dollars, exceeding the forecasts. This year's exports are expected to increase by 3-4%, given several factors such as the promotion of fresh and processed agricultural products in over 30 markets; including the United States, improved relations between Thailand and Saudi Arabia, proactive policies for international trades via commercial attaches around the world, etc.
To equip Thai businesses with a more competitive advantage in the global market, ProPak Asia 2022 joins hands with the Department of Industrial Promotion (DIP) to organize ThaiStar Packaging Awards 2022. This packaging competition encourages entrepreneurs and students to develop and add value to products through packaging designs. It also aims at promoting innovative designs catering to image promotion, transportation, environment protection, etc. The winners are awarded prizes worth over 250,00 baht with over 80 awards.
Mr. Nattapol Rangsitpol, Director-General of Department of Industrial Promotion, Ministry of Industry, discloses that "Packaging is a key factor which adds value to products. Thus, the investment in packaging designs and production is as important as the production of the products; it is a factor that can increase the benefits of sales. Besides, packaging performs more than its basic functions. In marketing, it supports sales promotion. In some cases, innovative packaging designs can increase efficiency and reduce damage during transport. In terms of value, packaging plays a significant role in branding, making products outstanding and impressive. It also makes products recognizable to customers because it is the first touch that customers can see even before they experience the products inside." However, packaging designs can be challenging in several ways. Not just beautiful and worth buying, the design must consider transportation, functions, durability, and eco-friendliness, on which modern consumers place emphasis. Moreover, laws and regulations at national and regional levels must be considered in order to meet certain standards of packaging for export products. One of them is European Green Deal, an EU policy that focuses on minimizing environmental impacts and global warming.