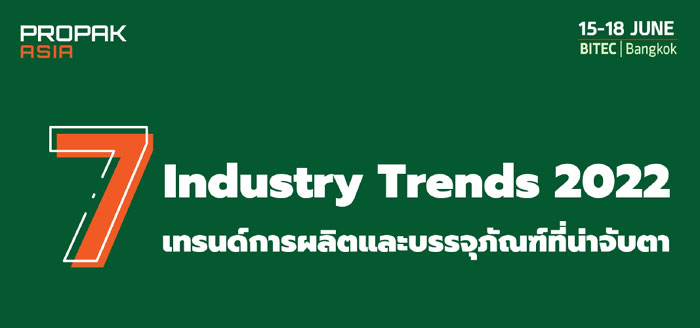 It's coming! ProPak Asia 2022, an international trade event for manufacturing, processing, and packaging technologies that brings together knowledge, inspirations, and business opportunities, will take place during 15-18 June 2022 at BITEC. Online registration can be found at https://bit.ly/36ZrxxL To Highlight the importance of the trade show and the benefits that Thai businesses and entrepreneurs will get, Informa Markets, the organizer, processes the data from global situations and industrial insights into seven upcoming manufacturing and packaging trends. With this information available, businesses can find the right solutions in advance.
Ms. Rungpetch Chitanuwat, Regional Portfolio Director - ASEAN at Informa Markets - Thailand, said, "ProPak Asia 2022 is the most sought-after gateway to the new era of 'Industry 4.0.' With exciting advanced technologies, manufacturing and packaging can be effectively enhanced for quality products. Meanwhile, sustainability can be retained for our planet in various dimensions, from the environment to society and humanity. Thus, whether you are manufacturers, entrepreneurs, investors, business owners of all sizes, or interested visitors, you are encouraged to visit his trade show to explore business opportunities and new experiences."
7 rising manufacturing and packaging trends
1. The Great Resignation to The Manpower of Nowhere
As a result of the great resignation worldwide, office workers and laborers in the manufacturing sector voluntarily quit their jobs; because they have seen the opportunities for growth and expansion in their hometowns. As for Thailand in particular, access to digital technologies; and a strong logistics network are just the beginning of the Big Quit. The next chapter involves a high-speed rail system. That means workers no longer need to have their settlements in industrial zones. They are more satisfied if they can work without limitations of time and place. More importantly, employment contracts tend to be shorter based on laborers' satisfaction. Besides, the country's fundamental public health security enables workers to work more freely. Therefore, business owners need to find new solutions to rely on the workforce as little as possible.
2. Rising of Automation
Automatic machinery and robotics have evolved from unaffordable industrial exhibitions to become helpers for better manufacturing. Now automation technology has become a key industry driver. After the global supply chain disruptions due to the Covid-19 pandemic: the improvement of risk assessment in the manufacturing sector has become an important issue and put pressure on businesses across the globe to control risks of labor shortage, improve manufacturing processes and see risk factors sooner. As a result, one rising trend is the adoption of automation and semi-automation in manufacturing processes. This trend begins to change from temporary use of hi-tech equipment to a fuller system of Smart Factory and Smart Processing, such as advanced sensor-equipped machinery with thorough data collection capability and inspection tools.
3. Practical 5G & IIoT (Industrial Internet of Things)
Countries active in growth and development have been through the trials of 5G & IIoT (Industrial Internet of Things) and started to launch industrial products that support these technologies for entrepreneurs to utilize. Specifically, M2M or Machine to Machine communications, in which machines can quickly communicate and send data to one another, help built-in AI learn, process data, and work together seamlessly. It can help reduce the use of the workforce, enhance ingredient and energy management, and minimize damage to finished products. If overseas maintenance experts are needed, many sensors installed in the machines can quickly send and process data into 3D augmented reality or AR, enabling the experts to control the maintenance directly from abroad. It is called Virtual Digital Twin in Manufacturing.
4. The Evolution of 3D Printing Materials
A 3D printer is an increasingly popular technology now, from large-scale productions to the SME level. Furthermore, materials technology nowadays, from plastic beams, synthetic fabrics, and woolen threads, to metal which can be printed layer by layer to create 3-dimensional objects, has made 3D printing in manufacturing and packaging more interesting in terms of the variety of materials. For example, using this technology to manufacture machine parts can help shorten waiting time and reduce parts imports. It can also play a key role in designing packaging prototypes that help cut costs and cut manufacturing time by 40-50% and encourage companies to design new packages to satisfy customers' demands more quickly or conduct market trials more easily.
5. Intelligent Packaging
Besides aesthetics, conveying brand strengths, emphasizing product highlights, and easy recycling, modern packaging has to serve more purposes. It has to allow tracing back to its source of production, processes, or quality; extending products' lifetime; reducing mold growth and bacteria; reducing erosion; eliminating gas produced by delivery or distribution processes; indicating freshness; and color changes when expiring. These functions can work through sensors, indicators, and data carriers, such as time-temperature indicators (TTIs). Traceability plays a significant part in sustainability management for the circular economy to reuse used packages as production materials.
6. Packaging for UAV (Unmanned Aerial Vehicle)
In 2021, Wing, a subsidiary of Alphabet, revealed it hit the 100,000 deliveries milestone. But now, Wing has hit a new record of 200,000 commercial deliveries in less than a year or more than 1,000 product deliveries a day, which means one drone delivery every 25 seconds. The drone is one of the rising Unmanned Aerial Vehicles (UAV). With a quick delivery service, the drone performs as an automatic delivery solution to the labor shortage in the logistics industry. However, when delivery modes have changed, the upcoming challenges are materials and packaging designs to support drone delivery services. What needs to be considered include hardness, weight, risk prevention from climate, etc.
7. Sustainability PressureEnvironmental problems, equality, humanity, and income distribution are issues the industrial sector can no longer ignore. These issues will be raised by consumers who pay more attention to sustainability or trading partners' policies. Manufacturers, hence, need to place more importance on sustainability in manufacturing processes, delivery, and packaging. Aside from SDGs: Sustainable Development Goals, which talk about creating equality, reducing inequality, health, and education. In terms of environment, there is EPR: Extended Producer Responsibility or a strategy in which manufacturers are given significant responsibility to cover the entire package life cycle. It is also a policy approach for producers to consider environmental impacts from designs, distribution, product return, storage, reuse, and recycling, to treatment. EU Green Deal is also an EU policy to bar imports of products that ignore sustainability issues from other regions. This policy aims to protect the environment from climate change. These policies have put pressure on businesses to turn to Brand Audit to actively inspect their brands for environmental and sustainability issues and find solutions to business survival.