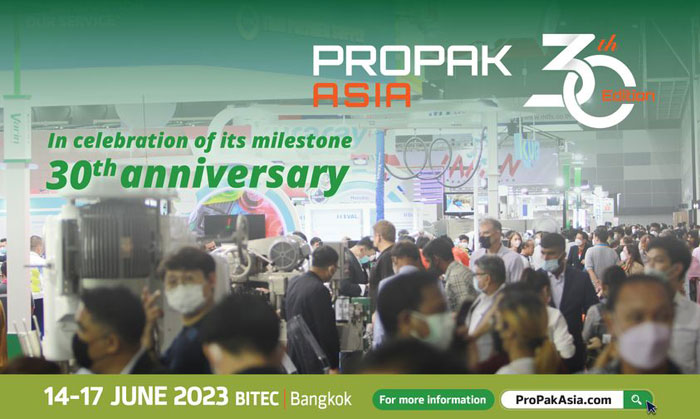 In celebration of its milestone 30th anniversary, ProPak Asia 2023 is set to be more special than ever to enhance the manufacturing industry and overcome global challenges in a sustainable and socially responsible way.
Over the last three decades, the Processing & Packaging industry has been developing quickly and adapting rapidly to manufacturing needs and ever-changing trends. ProPak Asia has stayed committed to offering key solutions, providing a solid support, and enabling businesses and professionals to connect and build strong networks with the common goal of accelerating the growth of the manufacturing industry.
As Asia's number one processing and packaging technology event, ProPak Asia 2023 is ready to highlight its commitment to delivering a superior experience to the manufacturing industry with state-of-the-art technology and new features. Industrial professionals from around the world are eager to attend this event and over 42,000 sqm of Hall 98-104 has been fully occupied. There will be 11 international pavilions from countries such as Australia, China, France, Germany, Italy, Japan, Korea, Singapore, Taiwan, Switzerland, and the United States.
ProPak Asia 2023 is an even more exciting event with the strong support of organizations such as the Department of Industrial Promotion(DIPROM): Ministry of Industry, Thailand Institute of Scientific and Technology Research (TISTR): Ministry of Higher Education, Science, Research and Innovation, The Federation of Thai Industries (FTI), Food Science and Technology Association of Thailand (FoSTAT), Thai Food Processors Association (TFPA), Thai Beverage Industry Association(TBA), World Packaging Organzation (WPO), Australian Institute of Packaging (AIP), Thai Beverage Industry Association, and many more.
Each year ProPak Asia improves to better serve the dynamic demands of the industry, with ProPak Asia 2022 attracting 780 leading companies from 41 countries and 37,528 visitors from 61 countries, with the top 10 visitor countries being Thailand, the Philippines, Malaysia, Vietnam, Indonesia, Singapore, Bangladesh, India, Japan, and Korea.
Thanks to government agencies and trade associations 27 groups from 10 countries for playing an important role in promoting and inviting their members to attend last year's event. These included Cambodia Business Association (CBA), The Department of Trade and Industry Regional Operations Group Philippine (DTI), Federation of Malaysian Manufacturers (FMM), Indonesian Packaging Federation (IPF), Vietnam Beer — Alcohol Beverage Association (VBA), Lao National Chamber of Commerce and Industry (LNCCI).
There were many groups visit consisting of potential buyers and key decision makers from private sectors including Abbott, Ajinomoto, Betagro, Boonrod, CPF, CPRAM, Dole Thailand, EUPAC, Glaxo Smith, GPO, Osotspa, P&G, Siam Foods Corporation, Thai Beverage, Thai Union Frozen Products, Unilever, and more.
In honor of its 30th anniversary, ProPak Asia 2023 will continue to build upon last year's success by offering an even wider range of solutions as well as many highlights to meet current trends including:
New Highlight Features
Post-Harvest Innovation Tour:Co-hosted with the Embassy of the Netherlands and The Faculty of Agro-Industry from Kasetsart University, this event will address techniques applied to agricultural produce after harvest for its protection, conservation, processing, packaging, distribution, marketing, and utilization.
Lab Pavillion:Co-hosted with Innolab, this will gather research and lab information for research & development (RD) and qualitative comparative analysis (QCA) specialists.
Ongoing Highlight Features
Sustainability Square:Co-hosted with The Mirror foundation and Sapya Tourism Community enterprise, Top 100 Green destinations 2022 by Green Destinations Foundation Netherlands, this will be an interactive zone where visitors and exhibitors can learn more about sustainability.
Packaging Solutions:This consulting project for packaging design is co-hosted with the Thai Package Design Association (Thai PDA) to upgrade and develop entrepreneurs in management roles to increase productivity, reduce costs and enhance the potential for efficiency.
WPO Innovation stage:Co-hosted with The World Packaging Organisation (WPO), this will feature experts from around the world sharing insights on Sustainability in Packaging, Flexibility in Packaging and Food Safety through Packaging to help you and your business.
Future Food:A fully immersive experience co-hosted with TasteBud Lab where all your senses will experience the future of food, beverages, packaging and processing.Do not miss the chance to join ProPak Asia 2023 and celebrate the 30th anniversary of this event and the growth of the Processing & Packaging industry as a whole. Discover all-new highlights at ProPak Asia 2023, which will be held from 14-17 June 2023 in Halls 98-104 at Bitec Bangna in Bangkok.