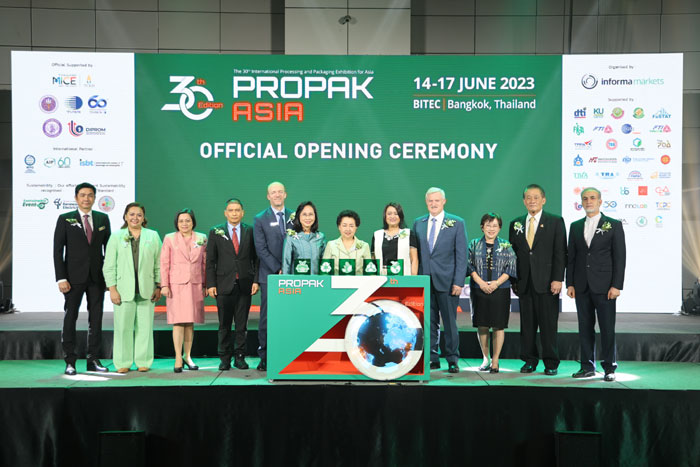 Informa Markets Thailand launched the opening ceremony of "ProPak Asia 2023" — Asia's number one processing and packaging technology event, occupying over 51,000 sqm of BITEC Bang Na. With more than 2,000 brands from 35 countriesattending to showcase their products and processing & packaging innovations, 45,000 visitorsare expectedthroughout the 4-dayevent, which will be held from June14 — 17, 2023, at Bangkok International Trade & Exhibition Centre (BITEC), Bangna.
Ms. Rungpetch Chitanuwat, Regional Director— ASEAN,Informa Markets Thailand, said: This year is an important milestone for ProPak Asia as it marks the 30th anniversary of the event in Thailand. Thirty years ago, packaging served only as a container to enable protection, storage, and transportation; however, today's packaging industry is constantly evolving. What's expected by everyone is development based on environmental standards and for sustainability. Such sustainability is a mission to achieve for the sake of the world and it is thus something prioritized by Informa Markets. This is noticeable from us being recognized by TCEB as one of the exhibitors that adhere to sustainable standards. And that's our pride.
Ms. Rungpetch added that, in addition to theenvironmental orientation, what's special this year is we witnessed market changes due to emergence of cutting-edge technology, which in turn helps add value to products of M-SMEs andfarmers. Thosewho canmanage todeveloptheir packaging will be able toenhance the quality and competitiveness of the products. With the support on this part, it can steer communities to supply products to the industry. This year, we have arranged a zone called Idea Theater, which is to scale up SMEs' ideas and prepare them for the global market based on community-level experience. Moreover, large-scale entrepreneurscan experience tech solutions that will address their business needs. This exhibition thus truly offers a one-stop service.
The theme of this year is 4S (Supply Chain, Safety, Security and Sustainability), aiming at driving the economy of food industry, both directly and indirectly, through 8 primary zones including Processing Tech Asia, Packaging Tech Asia, Drink Tech Asia, Pharma Tech Asia, Lab&Test Asia, Packaging Solution Asia, Coding, Marking & Labeling Asia, and Coldchain, Logistics, Warehousing & Factory Asia. The unmissable highlights this yearare:
· Investment Clinic:As a collaboration with the BOI, entrepreneurs, SMEs, startups can seize an opportunity to consult with financial experts about their investment, business planning, business scale-up and development.
· Post-Harvest Tech Zone: In collaboration with the Food Innovation and Packaging Center, Chiang Mai University, this zone is to showcase techniques for agricultural product storage and manufacturing process, e.g., storing, packaging, distributing.
· Lab & Test Theater: In collaboration with INNOLAB, it encourages everyone to visit technological labs dedicated for food, beverages, medicines and personal care development.
ProPak Asia 2023this yearachieves another milestone out of its 30th anniversary. The path taken has been challenging, exciting, and unpredictable. Not only an exhibition platform we are aiming for, as we strive to serve as a connector to bridge processing and packaging upstreamto downstream, specifically entrepreneurs. Register online to get an e-badge for offline entry at www.propakasia.com.
# # #
Opening CeremonySchedule
"ProPak Asia 2023"
The 30th trade and innovation exhibition for processing and packaging industries
Wednesday,June 14, 2023, at 9:00 a.m.
Grand Hall 202, Bangkok International Trade & Exhibition Center (BITEC), Bangna
***********************************
9.00 a.m. Media and guest registration
9.30 a.m. Introduction
9.45 a.m. Welcomespeechesby
1. Mr. Manu Leopairote
President of Informa Markets Thailand
2. Dr. Chutima Iamchotchavalit
Governor, Thailand Institute of Scientific and Technological Research (TISTR)
3. Dr. Atchaka Sibunruang
Chairman of the Boardof Thailand Convention and Exhibition Bureau (TCEB)
10.25 a.m. Official opening ceremony / Group photo session
10.40 a.m. Guided exhibition tour for executives
11.00 a.m. Press interviewwithMs. Rungpetch Chitanuwat
Regional Director—ASEAN,Informa Markets Thailand
Eventinformation
12:00 p.m. Lunch/Exhibition tour (unguided)