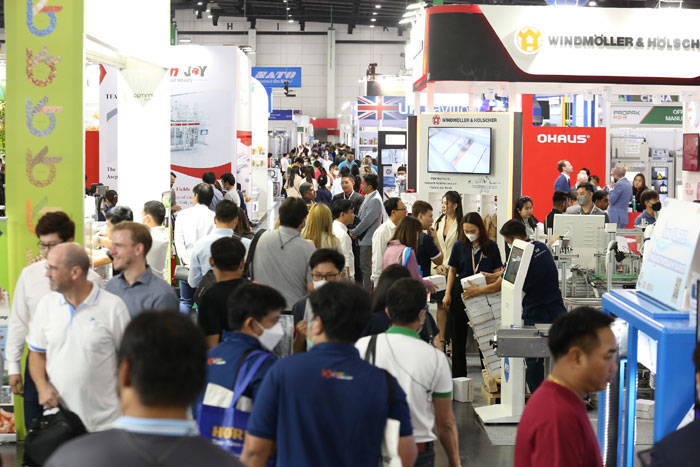 Informa Markets Thailand celebrates the more-than-expected success of "ProPak Asia 2023" – Asia's number one processing and packaging technology event, revealing interesting figures achieved. For this year, the visitor traffic hit a new record, specifically from around 37,500 to 58,555, coming from 59 countries, while the number of participating entrepreneurs increased from 780 to 1,800, thereby over 30 billion baht being expected to earn. Besides, Informa Markets Thailand reiterated that many activities have already been prepared for Fi Asia 2023 (Food Ingredients Asia 2023) that will be held during September 20 – 22, 2023, at Queen Sirikit National Convention Center.
Ms.Rungphech Chitanuwat, Regional Director – ASEAN, Informa Markets Thailand, said: The 30th ProPak Asia event in Thailand went smoothly and indeed achieved a success that exceeded our expectations. On behalf of the hosting team, we are proud to take part in upgrading Thailand's food and beverage industry to a world-class standard and enhancing its international competitiveness. We would like to express our appreciation for the feedback and support gained from all sectors, which contributed to this success of Propak Asia. The hosting team will also keep addressing possible improvements to ensure impressive experiences of upcoming ProPak Asia in later years.
ProPak Asia 2023 is a processing and packaging technology trade event oriented to the ecosystem of food production throughout the entire process, that is, processing through to packaging, to fuel the competitiveness of M-SMEs and introduce them to the global arena. On top of that, it is aimed at turning Thailand into a hub of processing innovations. The 30th ProPak Asia 2023 was held between June 14 – 17, 2023, at Bangkok International Trade & Exhibition Centre (BITEC), Bangna. For more information, please visit www.propakasia.com.
# # #
For media, please contact: Phenomenal PR Company Limited
Wimatanee (Jump) Tel. 084-422-6429 Email: [email protected]
Phongsathorn (New) Tel. 087-324-8091 E-mail: [email protected] (Wat) Tel . 099-392-9641 E-mail: [email protected]